Unit 9
The Th Joinings
78. The left-motion th is used before and after o, r, l. In other cases the right-motion th is used: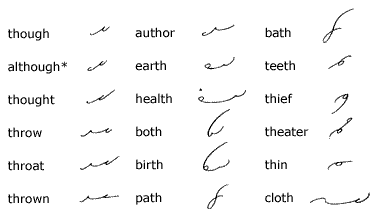 *The word although is a combination of all and though.
79. When th is the only consonant stroke, as in the brief forms for that or they, or is in combination with s, the right-motion th is used, as in these and seethe.
Frequent Prefixes and Suffixes
80. The prefixes con, com, coun, cog, followed by a consonant, are expressed by k. The suffix ly is expressed by a small circle, ily and ally, by a loop.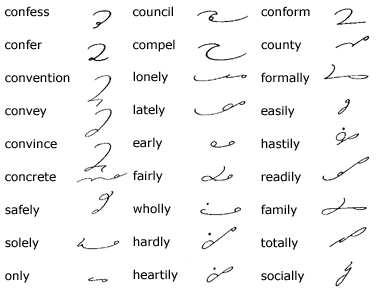 81. In words beginning with comm or conn, the second m or n is written, thus:

When con or com is followed by a vowel or by r or l, write kn for con and km for com, thus:

82. After a circle vowel, ly is written on the opposite side from the vowel, thus:

83. To express the plural of some brief forms ending in a circle and of some words ending in a loop, a slight change is made in the manner of joining s, thus:

Phrasing Principles
84. Before words beginning with a downward character or o, r, l, the word to is expressed by t:

85. When repeated in a phrase, as is expressed by s:

86. After be or been, the word able is expressed by a: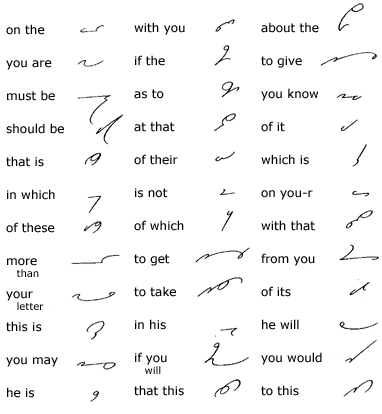 88. Brief Forms for Common Words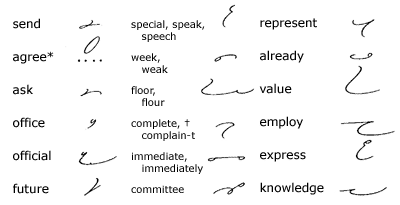 *The prefix form for agr-e-i, a loop written above the following character, is used to express the word agree.
†The angle between k and p is maintained in the word complete to make a distinction between complete and keep.
89. Reading and Dictation Practice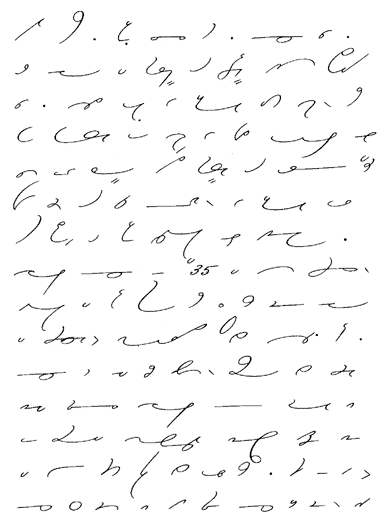 1. It is hard to say what is known about the model of the motor on which Horace Holiday is working. Several people have seen it and praise it.
2. After Bob bought the boat he noticed that the motor would stall often. After much analysis and pottering over it, he spotted the cause of grief. It was a little thing, and easy to fix.
3. The history of this country shows that a hardy, hard-working people, gifted with vision, can achieve what they fix as a goal if the goal has meaning to the people in general.
4. It was a shock to her to hear that John Jones, after joking about it, really had started alone on an airplane trip to Havana and was nearing his goal.
5. The "Lone Eagle" did not cross the ocean merely by dreaming of it. He made ready for a great trip by planning every detail. Study, hard work, and the bravery to face peril without flinching helped him to achieve his aim and to place his name on the scroll of the great men of history.
Dear Sir: It will be necessary for me to stay here till about the end of January, as there are many matters of importance still to be finished. I am really glad that you were able to see Mr. Hartman and close that business with him. Such matters may easily cause hard feeling. There is nothing at present that needs your presence here. The general situation seems to be as good as it is in the East. I have my heart set on making big gains for the company here this month. I am working hard to achieve all possible. Yours truly,