CHAPTER XI
Unit 31
227. Analogical Word-Endings—Joined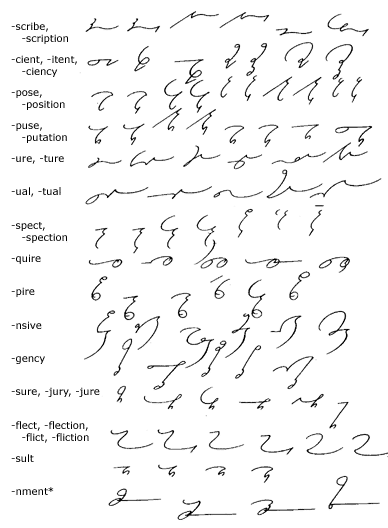 Note: Occasionally a disjoined prefix precedes a joined suffix, as in circumspect and introspect, in which case the disjoined sign is written above.
*The "jog" is omitted in the termination -nment.
228. Key to Analogical Word-Endings
1. subscribe, subscription, describe, description, inscribe, prescription.
2. ancient, patient, impatient, efficient, efficiency, deficient, deficiency.
3. compose, composition, propose, proposition, suppose, supposition, dispose, disposition, oppose, opposition.
4. repute, reputation, dispose, disputation, compute, computation, impair, amputation.
5. secure, picture, feature, nature, creature, departure.
6. actual, mutual, equal, eventual, continual.
7. inspect, inspection, prospect, prospective, expectation, circumspect, introspection.
8. require, inquire, acquire, requirement, acquires.
9. expire, inspire, conspire, transpire, perspire, aspire.
10. expensive, extensive, comprehensive, offensive, intensive, defensive.
11. agency, emergency, exigency, urgency, contingency.
12. assure, leisure, pressure, measure, treasure, injure.
13. reflect, reflection, inflict, infliction, conflict, confliction.
14. insult, result, consult, consultation.
15. assignment, refinement, consignment, adjournment.
229. Reading and Dictation Practice