Frequent Word-beginnings
145. The vowel is omitted in the syllables be, de, re, dis, and mis: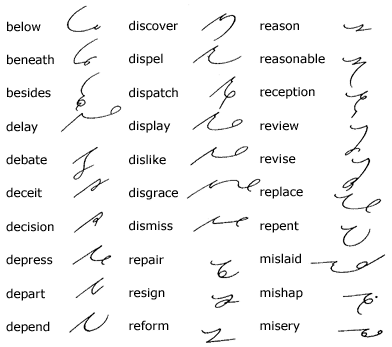 146. The vowel is retained when de precedes k and g, as in decay and degrade.
147. The vowel in re is omitted only before a downward character, as in replace, repent, review, repair, resign, and reception.
Phrasing Principles
148. The word had when following a pronoun is expressed as shown in the following illustrations:

149. The phrases was-not and is-not are expressed easily and legibly by using the blending principle:

Note: If the contractions wasn't, isn't, etc. need to be positively indicated, the apostrophe is placed above the forms.
150. Brief Forms for Common Words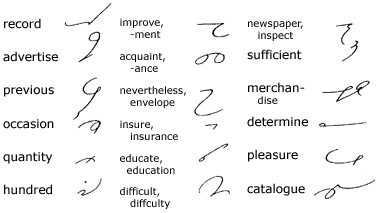 151. Reading and Dictation Practice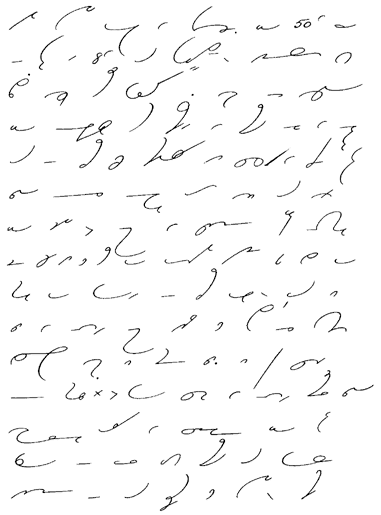 1. Apparently, this new house is endeavoring to underwrite the entire issue of the ship-canal bonds without calling upon any of the stronger and better-known houses.
2. Were you present yesterday evening at the reception to the new minister from France?
3. We have failed to find in the inventory any record of the number of batteries on hand December 31.
4. They discovered that the dispatch had not been delivered until after the stock market had opened.
5. The factory promptly made the consignee a satisfactory refund on the carload of goods.
6. It would be easier to replace those old buildings than to repair them.
7. I want you to change your window display every other day after closing hours.
8. The collection agency moved cautiously in the matter of collecting the old accounts that had been referred to it by the Retail Dealers' organization.
9. The Committee will hold its second session at the White House tomorrow morning.
Dear Madam: In the hope that we may be of some help to you in completing your shopping list for the summer season, we wish to call your attention to our mesh bags. Our complete line gives you a wealth of unusually pretty styles at very reasonable prices.
A visit to our Jewelry Department to look at these bags will prove profitable to you. Very truly yours,