Gregg Shorthand
Adapted to the
German Language

by
Samuel Valencia Greenberg
Copyright, 1924
FOREWORD
As the characters in Gregg Shorthand are natural to the hand, and in principles on which the system is founded meet with the approval of the mind, it is not surprising to find that it is readily adapted to any language. Things that are natural and logical must, of necessity, have a universal appeal.
In the past few years, we have met or had correspondence with many hundreds of writers of the system in English who were also making use of it in other languages with which they were familiar. The structural simplicity of the system, its almost purely alphabetic style of writing, the flexibility of its vowel scheme—all these things render it very easy to record any sounds uttered by the human voice.
But as every language has its own structural peculiarities and its frequently-occurring words and phrases for which special provision should be made, there is a need of standard presentations of the system in the various languages.
In its Spanish form, the system has been remarkably successful, so much so that a Spanish shorthand magazine printed in its characters is now being published. The adaptation to Esperanto has been received with enthusiasm by the advocates of that universal language. We are now preparing a series of presentation of the system for other languages. Those for French and German are issued almost simultaneously, and books in Italian, Portuguese, and Swedish are being prepared.
This book is a photographed reproduction of a book presented to the author of Gregg Shorthand by Mr. S. Valencia-Greenberg, of London, England. That Mr. Greenberg is a very artistic writer of the system will be evident from the shorthand forms in his manuscript.
We are greatly indebted to Mr. Greenberg for his permission to use this manuscript, and we feel sure that it will be of great assistance to the many writers of the system who desire to use it in the German language.
The Gregg Publishing Company
New York, April 1924
Consonants
Written forward:

Written downward: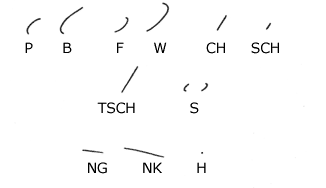 Vowels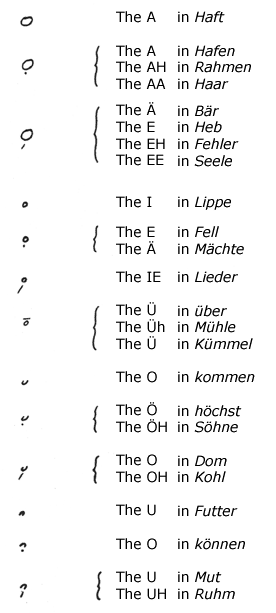 Diphthongs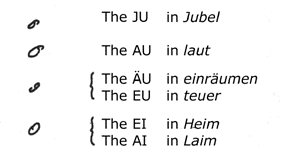 - Next Page -