Unit 27
Compound Words
201. A number of compounds may be obtained by joining brief forms: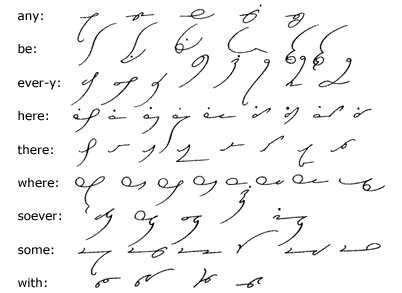 | | |
| --- | --- |
| any: | anybody, anyone, anywhere, anyhow, anyway. |
| be: | before, beforehand, behindhand, belong, beside, besides. |
| ever-y: | whatever, whenever, whichever, however, whoever, everybody, everyone, everywhere. |
| here: | hereafter, herein, hereinafter, hereinbefore, hereon, hereto, heretofore, hereunto, herewith. |
| there: | thereafter, therein, therefore, therefrom, thereon, thereto, thereupon, therewith. |
| where: | whereabouts, whereas, whatever, wherefore, wherein, whereof, whereon, elsewhere. |
| soever: | whatsoever, wheresoever, whensoever, whosoever, whomsoever. |
| some: | somebody, somehow, someone, sometime, somewhat, somewhere. |
| with: | within, withstand, forthwith, notwithstanding. |
Note: Slight modifications or omissions are made in the forms for anywhere, anyhow, hereinafter, herewith, however, sometime, somewhere, and the compounds beginning with every. These should receive special attention. The form for notwithstanding is not-with-s.

204. After numerals the word dollars is expressed by d; hundred by n placed under the numeral; thousand by th; million by m placed on the line close to the numeral; billion by b; pounds (weight or money) by p; gallons by g; barrels by br; bushels by bsh; feet by f; francs by fr; euros by eu; cwt. by nw; o'clock by o placed over the numeral:

*The sign for hundred is placed beneath the figure to distinguish it positively from million, which is written beside the figure.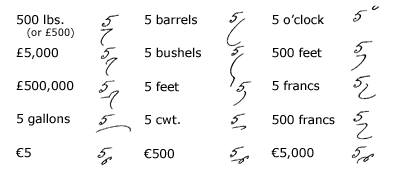 205. The above signs may be used after the article a and such words as per, few, and several: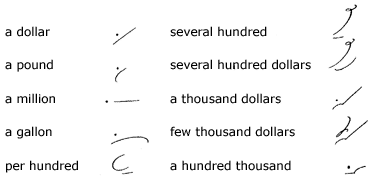 206. Cents when preceded by dollars may be expressed by writing the figures representing them very small and above the numerals for the dollars; when not preceded by dollars, the sign for s is placed above the figures. Percent is expressed by s written below the figures; percent per annum by adding n to percent.

207. Reading and Dictation Practice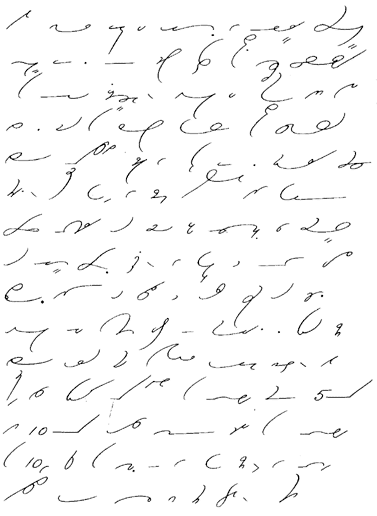 1. A few thousand dollars will be needed to begin the repairs on the bridge at Omaha. It is estimated that the total cost will be about $50,000.
2. Owing to the strike, the goods are coming through in very poor condition, and many of the shipments must be refused.
3. A trial of the peculiar device showed that it was not capable of developing even approximately the power claimed for it.
4 We are anxious to be invited to the private view of this new establishment, and especially of its elaborate and conspicuously beautiful decorations.
5. We are somewhat accustomed to abbreviating words in writing the English language in longhand. This expedient is especially applicable and convenient in
writing rapidly. The principle is capable of great development and offers a ready means of providing easy forms for many long words that would otherwise require more elaborate and consequently Less fluent outlines.
6. In the Post Office Guide it is suggested that in addressing envelopes the name of the state, written on a line by itself, is more convenient in handling the mail.
7. A peculiar situation has arisen that is likely to prejudice the development and policy of this financial institution.
8. The Reverend Mr. Smith took a conspicuously benevolent attitude toward a policy that was not likely to be successful.
9. A regular feature of the establishment was the inauguration of a fashion show each month.