CHAPTER X
Unit 28
Analogical Word-Beginnings—Disjoined
209. Certain prefixes or letters are disjoined to express tr and a following vowel. The prefix is placed above the line, very close to the remainder of the word.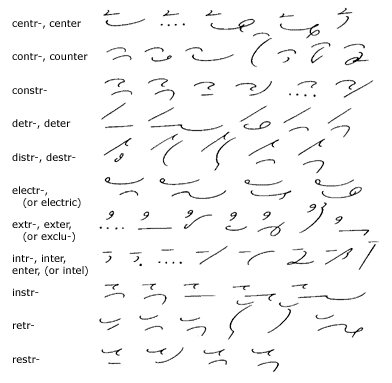 1. central, center, centralize, centralization, centrifugal.
2. contract, contrary, control, contribute, contrast, counterpart, countersign.
3. construct, construction, constrain, constraint, construe, construed.
4. detriment, detrimental, deteriorate, detract, detraction.
5. destroy, distribute, distribution, distract, distraction.
6. electric, electrical, electrolysis, electric light.
7. extra, extreme, extraordinary, exterior, extricate, exclusive, exclamation.
8. interest, interesting, enter, entered, entertain, interfere, introduce, intelligence.
9. instruct, instruction, instrument, instruments, instrumental.
10. retreat, retract, retraction, retribution, retrieve, retrogression.
11. restrain, restraint, restrict, restriction.
211. In forming the derivatives of words ending in ct, as in contract, it is not necessary to disjoin to express ed, or, er, or ive. The t is omitted in the primitive form (under the rules given in Chapter VIII), and also in its derivatives: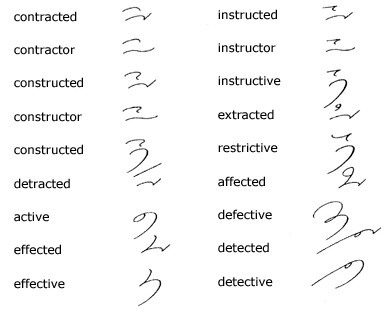 Analogical Word-Beginnings—Compounds
212. Some very useful forms are obtained by joining simple syllable characters, such as in, un, dis, re, and non, to the signs for disjoined word-beginnings: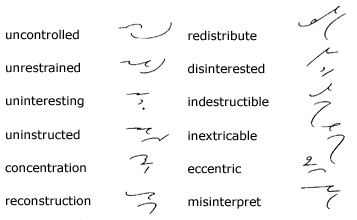 213. Reading and Dictation Practice